I love sports. I always have, pretty much.
I don't simply love the game, I love what the whole thing represents. Or, could represent.
I love the good side of it all.
I love how when you are sad, you can watch a game of whatever sport and feel better.
I love how when something awesome happens, hundreds, thousands, even millions of people are all happy, cheering and give each other high fives all at the same time.
I love how when a tragedy happens, whether it's to a single family, person, a community, or a country, an athletic event can provide that common thread needed to distract, support, and help move on. Even if for only a brief amount of time.
Sporting events are one of the few places where, more often than not, people from all backgrounds and ages can come together for a common purpose - to cheer on their team and to jeer the common opponent. After 9/11, we all had a common opponent again, not necessarily a physical one, but a mental one. Our opponent was fear. We all had to re-learn how to move forward and regain some "normalcy" in our day to day lives. Attending, watching, following our beloved sports was one way how we, as Americans, could do that.
I wasn't in California on September 11, 2001, I was in Michigan in graduate school at Michigan State University. I remember where I was, where I was standing, the shock I felt, the fear for loved ones. I remember calling and volunteering my services as an EMT, and knowing if they called back, my mom would be pissed being her only daughter and all, but I had to do it. I had to at least try to help. I had to try to serve my country.
A week later, after almost non-stop news and reporting and talk about the attacks and their aftermath, I was so freaking thankful for a baseball game, a football game, hell, I would have taken a game of cricket at that point. ANYTHING to get away from those images.
The Mets marked the return of pro sports in New York on September 21, 2001 at Shea Stadium against the Atlanta Braves. What was more important to them, the game or just being there? How many people did they know personally effected by the tragedy? Did they want to be there, or were they there for those in attendance?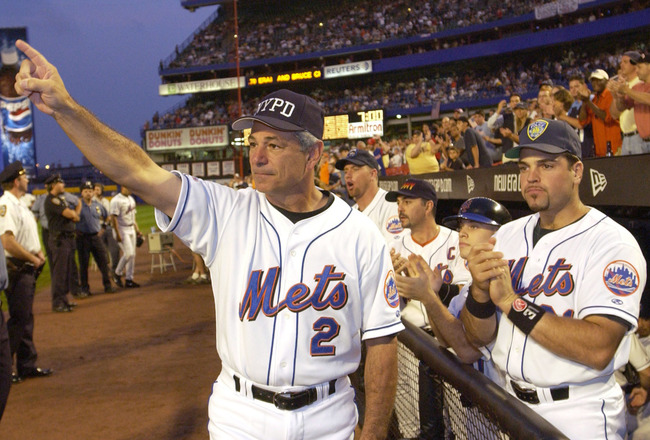 Ezra Shaw/Getty Images
AP Photo/Mark Lennihan
Roger Clemens was the starting pitcher for the Yankee's return to the Bronx on September 25, 2001 against the Tampa Bay Devil Rays. Those officers deserve every bit of recognition for their service during the disaster. How emotional were the players that day? How humbled was Roger Clemens having the honor to shake their hand?
Ezra Shaw/Allsport/Getty Images
How important was it for American to cheer for those sports? To be able to stand and sing our National Anthem?
Kansas City hosted the New York Giants on September 23, 2001 with an emotional speech from Paul Tagliabue at the opening. Kansas City lost, but I'm not sure they cared. Between the fans, players, coaches, and owners, the KC Chiefs community raised $
451,413.88 to aid the families effected by the disaster -
that day.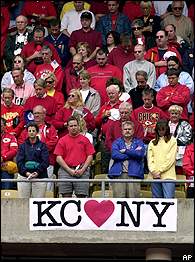 AP
Then, 10 years later... Sunday, September 11, 2011, opening day of the NFL Regular Season.
The Jets' Mark Sanchez, LaDainian Tomlinson among others carry flags while entering the field.
AP Photo/Henny Ray Abrams
Before the Tigers game
at Comerica Park
in Farmington Hills, MI...
AP Photo/Duane Burleson
Fans at the Houston Texans Game show their patriotism...
AP Photo/Eric Gay
And, of course, the San Diego Chargers... people look skyward as the tradition Osprey aircraft flyover passes by. Believe me, this is an amazing sight!
AP Photo/Denis Poroy
To all the service men and women, fire personnel, police and other law enforcement officers, we are all in your debt.
For what you did that day and what you have done for the 10 years since that disaster and will continue to do to protect us, thank you... And no, we won't ever forget.