My roommate (Upgrade) and I have varying opinions of men. We like different guys, we go after different looks. However, we both love the NBA. A lot. And we both love to watch the men. Cause they are delicious.
We don't agree who is most delicious. We'll let you decide. Here's our top picks and why they got there.
Kevin Garnett
Upgrade: HOT! I give him a 10, a fucking 10!!!! (Ok, Upgrade, we need to know why . . . . ) He's sexy. He's sexual chocolate. His smile is captivating. Plus, he looks mean, I like it. Lots of intensity in his face when he plays.
AuntBT: Not. Ok, I'll give you the smile. The rest, I don't really see it. But it's okay. We know we like different guys.
Tyson Chandler
AuntBT: HOT. Ok, this is my absolute number one. He's so pretty, intense, and an amazing ball player. Plus, I love boys with tattoos. Delicious.
Upgrade: Not. When looking at this picture I would say yes, but he isn't always nice to look at on the court.
Dwight Howard
AuntBT: Hot. Still not my favorite, but I completely see it. I mean, come on. Look at those arms and shoulders.
Upgrade: Seriously Hot. This one is tough, mainly because he might top KG, who is my absolute fave. I would lick the sweat right off of those massive arms and gorgeous skin...right off!
Kobe Bryant
AuntBT: Not. Sorry, the fact that I've now had to look at two Lakers players is one thing, but I just can't get on the Kobe train. He makes my skin crawl.
Upgrade: Hot. Always been on the list...the smile is contagious, regardless of whether or not he is complaining about a call. He has an interesting story too, which makes him even more sexy :)
Dahntay Jones
AuntBT: Not. Sorry, I've seen this guy up close and he seems like a nice enough kid. But that's about as far as it goes. He's not ugly, but nothing is making my knees shake.
Upgrade: He has the sexy, sultry, smokey look going and it is HOT!
Dirk Nowitzki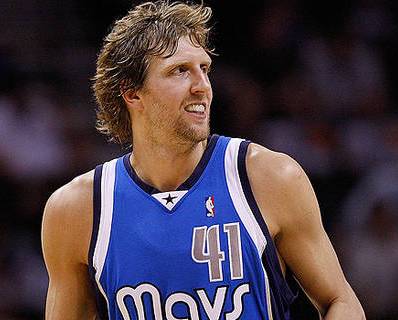 AuntBT: Hot. Yup, I said it. I love me some tall german men. I also feel in love just watching him play ball. Not saying he should be on the cover of a magazine, but definitely hot in my book.
Upgrade: Not. This one has grown on me over the years, mainly because of the type of person he is, but if we are talking initial meeting and seeing him, I would say he doesn't do it for me :( Sorry Dirkalicious!
Blake Griffin
Upgrade: Hot. Don't know what it is, but he is SEXY! The arms are immaculate, and the body is to boot as well. He has a pretty gorgeous smile too, you just don't see it a lot. Plus he is one of the most exciting players to watch in the league, great combo :)
AuntBT: Not. Sorry Upgrade, I know you love him. He does nothing for me. He's not one I would stop on the street to stare at.
Shawn Marion
AuntBT: Hot. Yes, he's completely and utterly T-Rex. (Watch him shoot. He's T-Rex.) But he's yummy. Check out how he dresses before games. You'll thank me.
Upgrade: Not. On the court, no...the faces are too much for me, and that god-awful shot! Yuck! But I agree with AuntBT, the man sure can dress!
Carmelo Anthony
AuntBT: Not. Sorry. He's still the nasty player from the Thuggets. Nothing about him is hot, except maybe his lust to be Lebron. Who also, still sucks.
Upgrade: Don't see why he made this list, but I guess I can see why some might think he is good looking. He does have pretty skin, but that is about it for me.
Why did we put him on the list? Oh right. Cause we wanted to make sure people knew he sucks.
Tony Parker
AuntBT: I'll straddle the line on this one. He annoys the crap out of me, but I get why girls love him. I mean . . . he does have a great french accent.
Upgrade: Not even a little. French accents mean nothing when you are a cheater...sorry Tony, that right there ruins it for me...plus you aren't that good looking anyway. You were lucky to have Eva when you did.
Luke Walton
AuntBT: Hot. Why must there be so many Lakers??? Ugh. Other than that, he's hot. He's a benchwarmer, but I like to look at him. A muzzle might be a good option for him though. Just sayin.
Upgrade: Not. Much better looking than his father, but doesn't really do much for me...I do like his hair though!
Vince Carter
Upgrade: Hot. The ultimate sex appeal when you are talking older man! He has had it since day one! Another gorgeous smile!
AuntBT: Not. I love to watch Vince play, but no. Not getting it. Sorry Upgrade.
Chris Paul
AuntBT: Hot. Yes, he's little on the court, but I like it. He's got a fantastic smile. He handles the ball like no one else. Just sayin, good hands.
Upgrade: Not. He is a good looking man, I must admit, but doesn't do much for me.
Derrick Williams
AuntBT: Not. Nope. Sorry. Plus, he's a child.
Upgrade: Not. Was OK until he smiled. Come on Derrick, you have the money, now fix those teeth!
Tyler Hansbrough
AuntBT: I'll straddle the line on this one. He's pretty cute, but he bleeds more than most girls. Seriously, he's not the sharpest tool in the shed. He's broken his nose so many times he has to wear a face guard every game. Hence the college photo.
Upgrade: Not. Other than the fact that he is in the NBA, there is nothing appealing about him to me. But it could be that he is UNC alum.
Kris Humphries
AuntBT: Hate to admit it, but Hot. He's so dumb. So dumb. But, he's pretty. Yup. So pretty.
Upgrade: HOT, but ruined...because of all the Kardashians, you had to pick the dumbest, whiniest, most nasty of them all, therefore makes you pretty dumb yourself. But you are nice to look at Kris, yes you are :)
Okay ladies, what are your thoughts?? Any we missed? Any that you completely disagree with? It wouldn't be the first time we were wrong.
All photos were found from Google Images