I will never take away that Alabama didn't deserve to win the BCS National Championship. They did a fantastic job. Played their hearts out and won. So a BIG congrats go out to Sabin and his team. Well done Roll Tide.
Photo from USAToday.com
However, I wanted to see Notre Dame take it home. I wanted to see a team that used to be on top of the world come back. They've struggled to make it back to the Championships for so long. I felt they had a chance. Unfortunately they just folded. Any team can be beaten on any given day. Notre Dame's top players (especially Te'O) weren't performing as well as they normal do. It just wasn't in the cards for them Monday. It happens. You just hate to see it happen at the National Championship. And yes, it's the girl side of me that's the sentimental schmuck who wanted to see them win. I don't have ties to either team. And I don't hate Sabin, I know he's a super perfectionist and is very hard on his team, however, I know the players respect him. I just wanted those gold helmets to be held up in the air.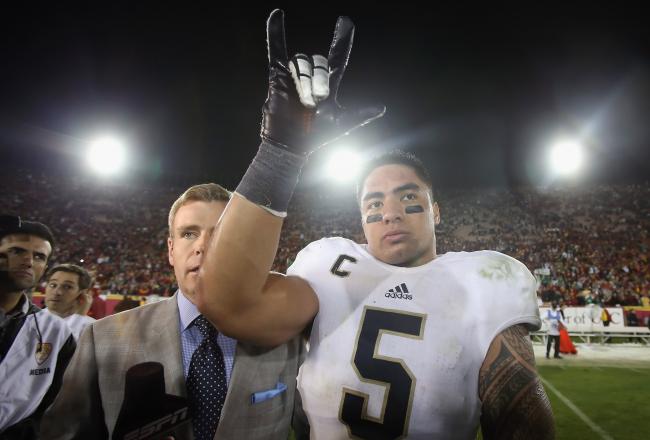 Photo from bleacherreport.com
And really, both teams' players were just so respectful about the other teams. Notre Dame's players were heart broken and still just gave the highest regards to Alabama. The coach as well. One can only hope that this team, minus the seniors (and sadly Te'O) will make it back next year. And win it all.
For you NCAA haters . . . . I'm there with you. Trust me. I hate the bowl system. I hate how the NCAA runs it all. However, if I hear one more person say that Notre Dame didn't belong in that Championship game, I will smack you upside the head. They had a perfect season, until Monday night. They don't play cupcake teams. If they did, my beloved alma mater would have been on their list. Thought does go into who plays in this game. There are reasons, and although I don't agree with the system, I know teams belong in that game. Scream Roll Tide Roll to whoever you want, I will say congrats to your team, but I will not be okay with you saying Notre Dame didn't belong there. If you think you can do a better job, go meet with the president of the NCAA . . . . in fact, put it on video. We'd all like to see that.